C'est parti pour les précommandes du mois de Septembre !
IDW Publishing
Berkeley Breathed Outland Complete Collection HC (s/n)
Berkeley Breathed, the mad genius who boggled and bewildered us with Bloom County, is back! Soon after retiring Bloom County-and at the peak of its popularity-Breathed returned with an all-new Sunday-only newspaper strip: Outland. Debuting just four weeks after the final Bloom County was published, and with many of the same cast members, Outland continues on in the same traditions set forth by its forebears-ranging from delightful whimsy to raging satire! This is a limited edition of the Complete Outland Collection, strictly limit to 500 copies, each numbered and signed by the one and only Berkeley Breathed!
Prix : 50$
Sortie prévue le : 21/11/2012
Complete Chester Gould's Dick Tracy Vol. 14 HC
What does Crewy Lou do with Bonny Braids? Dick and Tess's baby isn't the only child in danger in Volume 14: wait 'til you meet Sparkle Plenty's new best friend, Little Wings, and discover the ominous reason she appears to glow in the dark! Chester Gould also ramps up the violence and death traps, introduces more inventions (closed circuit surveillance, the first broadcast police line-up), and more cra-a-zy characters such as Tonsils, Dot View, Mr. Crime, Odds Zonn, Newsuit Nan, and Spinner ReCord, plus the touching story of the girl known as Model. Including all strips from September 16, 1951 - April 18, 1953.
Prix : 39.99$
Sortie prévue le : 28/11/2012
Li'l Abner Vol. 05 HC
In the darkest hours of World War II, why were millions of people laughing? Because they were reading Li'l Abner, that's why! The fifth volume of this series features daily strips and full-color Sundays from 1943 and 1944, with a zany cast of characters that includes Shadrack Throwback, The Monster, Madame Lazonga, and Joan L. Sullivan, plus returning favorites like Moonbeam McSwine, Swami Riva, and Available Jones. Capp also aims his satirical barbs at teen idol Frank Sinatra (yes, Frank Sinatra!), as a starving Li'l Abner Yokum croons his way into female hearts. Meanwhile, the hilarious take-off on Dick Tracy, Fearless Fosdick, is like getting two comic strips in one!
Prix : 49.99$
Sortie prévue le : 21/11/2012
Opus Complete Sunday Strips from 2003-2008 HC
It's Berkeley Breathed's final spin around the dance floor with his most quirky and endearing character-Opus. The Pleasant penguin has long been the moral center of the Berkley-verse, and nowhere is that as abundantly clear as in his own self-named book. Aside from our waddling friend, this book contains numerous characters readers will fondly remember from the days of Bloom County. This volume collects the entire run of Berkeley Breathed's Opus, from first to last, and features an introduction and running commentary from Breathed.
Prix : 39.99$
Sortie prévue le : 21/11/2012
Andrews McMeel
Complete Calvin & Hobbes SC (slipcase edition)
They're back! This eagerly awaited four-volume slipcased paperback edition of the original groundbreaking collection features the adventures of Calvin and his pet tiger, Hobbes.
Prix : 100$
Sortie prévue le : 14/11/2012
Fantagraphics
Barnaby Vol. 01 HC
Fantagraphics introduces Barnaby, with it's playful mix of fantasy, wit and elegantly spare images, to a new generation of children and parents. Created by Crockett Johnson (Harold and the Purple Crayon) in the 1940's, this five-volume series, with art direction by graphic novelist Daniel Clowes (Ghost World), will collect the entirety of the original newspaper strips.
Prix : 35$
Sortie prévue le : 28/11/2012
Hermes Press
Phantom Complete Dailies Vol. 05: 1943-1944 HC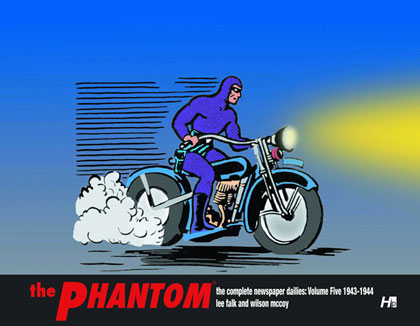 The first and original masked hero to ever grace the pages of comic strips and comic books returns with the next in Hermes Press' complete reprint of The Phantom. Referred to by comic strip historian Maurice Horn as the granddaddy of all costumed superheroes, The Phantom was created in 1936 by Lee Falk with artwork by Ray Moore. This volume presents five complete continuities: Bent Beak Border, The Phantom's Engagement, High Seas Hijacker, The Spy Gang, and The Crooner.
Prix : 49.99$
Sortie prévue le : 12/12/2012
-------------------------
Voici un mois très intéressant. Pour ma part, il y a de fortes chances que je prennes le Outland, le Opus et le Li'l Abner. La sortie du Volume 5 des aventures du Phantom me donne furieusement envie de prendre le volume 1.
Et vous, quels titres vous font de l'oeil ce mois-ci ?